Cave paintings indicate a huge turning point in the evolution of the human race. They indicate the emergence of creativity and imagination. The origins of art distinguished us from all other animals and it reflects a radical change in our consciousness – it's when we started using symbols and images to represent our experiences. Jared Diamond says in his book The Third Chimpanzee that art is one of our essential human features. Some archaeologists and art historians point to specific examples of cave art as signs of shamanism.
Shamanism is loosely defined as a practice involving a figurehead who enters into an altered state of consciousness in order to enter into a spirit world. The shaman usually enters into this altered state through ritual (such as chanting, dancing, using hallucinogenic plants etc.). Mircea Eliade writes in Shamanism: Archaic Techniques of Ecstasy that the shaman enters into a supernatural world in order to heal the community – this is why the shaman is also referred to as a "healer" or "medicine man". The earliest cave art dates to around 40,000 years ago. This was during the Paleolithic era, a time when we were also making use of stone tools for hunting, another distinctly human behaviour. 40,000 years ago humans were already anatomically modern, with the brain being the same size as it is today.
The oldest cave art is found in the Cave of El Castillo in Spain, dated around 40,000 years, the time when it is believed that homo sapiens migrated to Europe from Africa. The paintings are mainly of deer. The next oldest cave paintings are found in the Chauvet Cave in France, dating to around 30,000 years ago. The paintings feature a larger variety of wild animals, such as lions, panthers, bears and hyenas. It's strange to think that these animals were roaming around France at that time.
There are no examples of complete human figures in these cave paintings, although there is an image of a woman which seems to be connected to the head of a bison. This has led some to say that the image is the first example of the mythical "minotaur" – a creature with the head of a bull and the body of a man. There are also some more abstract and strange markings, such as zig-zag lines, dots and dashes throughout the walls of the cave. David Lewis-Williams in his book The Mind and the Cave has interpreted these strange images and patterns as a sign of shamanism and altered states of consciousness.
Lewis-Williams claims that the "geometric" images found in these cave paintings are similar to the patterns that subjects reported under the influence of mescaline in experiments conducted by the neurologist Heinrich Kluver. The images are interpreted as journeys into the spirit world. Similar patterns have been found in caves in the American Southwest, used by Native Americans for ceremonial purposes. The patterns in these caves could be attributed to peyote use, a plant which has been used by Native Americans for religious practices for the past 2,000 years. Graham Hancock is one supporter of Lewis Williams' ideas and says in his book Supernatural that the "transformed beings" in some cave art, where humans are combined with animals, is evidence of altered states of consciousness.
'The Sorcerer', is an example of a strange cave painting found in 'The Sanctuary' cave in France, dating to around 13,000 years ago. Henri Breuil asserts that The Sorcerer, which is painted as a kind of half-man, half-deer hybrid, represents a shaman. It is speculated that when one of these shamans went into a trance, they might perceive images of these transformed beings or they might imagine themselves becoming one of them. In San Bushman cave art as well, there are paintings of human-like figures lying down, possibly a shaman lying in some sort of trance state.
Images have also been found in cave art which look like UFOs or alien beings. Graham Hancock argues that this does not mean that prehistoric humans encountered aliens, as some conspiracy theorists might say, but instead could be a sign of hallucinations. If these caves were used for ceremonial or magical rituals, which the art does indicate, this might explain how religions originated. The ancient Egyptian religion, for example, is full of half-animal, half-human gods, as well as ritual and magic. The Egyptian religion, like the older forms of shamanism, could have been based on altered states of consciousness. Some have argued that the Blue Egyptian water lily, which has mild psychedelic properties, might have been used by ancient Egyptian priests in ritual practices. In Egyptian art found in the temple of Karnak, the lily is depicted in party-like scenes. The lily is also a symbol of the Egyptian deity Nefertem.
Some ancient cave art also features mushrooms, which some say is a sign of early hallucinogenic mushroom use. The Selva Pascuala cave has 6,000-year-old paintings of a row of mushrooms. Brian Akers and Gaston Guzman believe the mushrooms are Psilocybe hispanica, a species of hallucinogenic mushroom native to the area. Different cave art has been discovered showing feminine figures with mushroom heads – the mushrooms are spotted which means they are probably Amanita muscaria, those red mushrooms with white spots, known to have psychedelic properties. A rock face in Tassili, Algeria dating to 5,000 years ago shows something even weirder. On the track face is some sort of shaman with the head of a bee and his body covered in mushrooms and grid-like patterns. The most obvious explanation, to some, is that this painting came from an altered state of consciousness.
Cave of El Castillo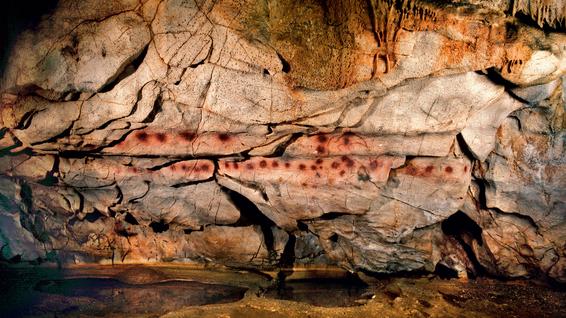 Geometric patterns in Native American cave art
"The Sorcerer" (the re-drawn version by Henri Breuil)
A shaman lying in a trance state in San Bushman cave art
'Aliens' and 'UFOs' in ancient cave art
Mushrooms in the Selva Pascuala cave in Spain
Women with mushroom heads
Below are individuals holding mushrooms, drawn in a cave in Tassili, Algeria. In the same cave, some sort of bee-faced shaman is depicted, with mushroom-looking objects sprouting out of his shoulders and legs. The re-drawn image, from Kat Harrison, features in Terence McKenna's book Food of the Gods.